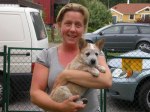 Little about..
My name is Beatrice Semmelhack and i live in Ärla, Sweden, about 1 hour from Stockholm.
Bushbug's Deep Minnow "Dessie" is my first Australian Cattledog and is a companion through thick and thin, together we practice obedience, rally obedience and tracking.
I grew up with the breed Dalmatian and have had golden retriever, flatcoated retriever and a German Shepherd before i got interested in the acd race..
Why cattledog
It was easy to get caught up in the breed ACD, it is a wonderfully funny, cooperative and easily trained dog but also very demanding. It has a great will and is very intelligent.
But is primarily a faithful companion for life!
About a year before i bought my acd i was looking around for a new dog, a dog who had a medium size, coat that is easy to maintain, i wanted it to be fast, funny and easy to train and a also a good family dog, i didn't whant a border collie or kelpie. So i was thinking australien sheperd, who really is great but the coat... Well, a good friend of my talked about the acd race and thougt that it would sute me perfect.
So i read about them and looked at them and visit breeders! and here i am starting my own kennel!! :)
When i visit Susanne,Bushbug's kennel, i was sure that i wanted a blue male.... hmm.. well Dessie sure is a female and not blue!! but it was her i felt for. so, you never know who it click with!!

My goal..
as a breeder is to produce healthy and typical Cattle Dogs with a great workability and Exterior.
Cattledogs are great allround dogs that's suitable for both herding, agility, obedience and tracking, etc.
It's a working dog and I only sell puppies to homes where the dogs will be working and activated,
I expect them to be MH-described (youth mental depiction) and X-rayed (hips and elbows).
My personal goal is to be a better competing person and get my nervs under control... ;)
It's great to train dogs and to have dog training courses, i love it! but to compete.. hmm, i will get better! :D